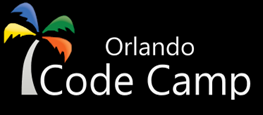 We are just over 3 weeks away from our 10th annual Orlando Code Camp!  I always look forward to this awesome event put together by the Orlando .NET User Group.
This is already proving to be our biggest Code Camp ever, with 78 speakers and over 90 sessions, I'm confident that we'll have more than the 635 people that we had there last year.
So what do you get if you come to Code Camp?  A full-day free software development conference put together by the community for the community.  We have some very well-known speakers that will help you learn about your favorite topics.  You will get a free t-shirt, lunch, an after-party, and the chance to win lots of prizes. And of course, some great networking opportunities.
You can see the full agenda here, and the list of speakers here.  I hope to see you there!
When: Saturday, March 28th, 2015 – 8 am to 5 pm
Where: Seminole State College