Last Saturday, April 25th, the Orlando .NET User Group was part of Global Azure Bootcamp. The event took place across 183 locations throughout the world so it was great to be part of it and to bring such great content to Orlando.
Our event ran from 10 am until 3 pm, with the following sessions covered:
Brian Mishler: A lap around Azure
Breck Maass: Getting started with Azure
Esteban Garcia: Visual Studio Online, Build Automation and Automated Deployment to Azure
Brian Hall: Application Insights
Santosh Hari: Azure and Open Source
We had the great Joe Healy on hand to answer a lot of questions which was awesome since we had such an engaged group of people there.
We had 34 people there and it was so good to see all those dedicated people giving up their saturday to be part of this event and to get started with Azure. We also got 12 companies signed up on BizSpark.
Having 3 members from Nebbia Technology presenting at this event was very gratifying as well. One of the things that we focus on is being very involved with the community and I loved seeing that in action!
Here is Brian Mishler kicking things off: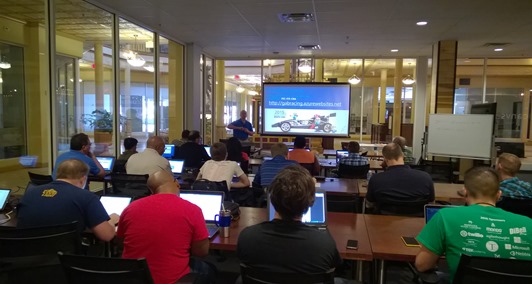 A huge thanks to Canvs for giving us access to such a great space for the event!