Last week, I got the chance to go to my first Microsoft MVP Summit. I was very excited about going and it proved to be even better than I expected.
We had 3 full days of ALM sessions with the product team and a bonus day of sessions given by MVP's. This turned into really long days, but the content and the people so engaging that time flew and you were left wanting more.
Although I can't talk about any of the things that we went over, I can say that there are some really interesting coming from Microsoft in the ALM space (some in the short term and many others in upcoming versions). I'm not used to being in a room with 75+ ALM people and I was in awe of the amount of expertise that we had there. TFS experts, process experts, automation experts, testing experts, you name it. I'm really happy to be part of this ALM community and glad that I met so many new people.
Overall, I guess the best way to describe how I felt after the event is INSPIRED. There's a lot of great work being done out there and I am eager to keep contributing to the community and helping development teams become better development teams through the right practices and tools.
Some pictures from the week
Sunday night at the MVP Showcase, talking about the ALM Rangers Branching tool. The posted is missing a few names for the other contributors.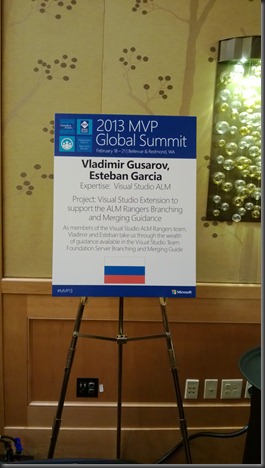 Hanging out with Eric (from AgileThought) and other ALM MVP's
On my way into the MVP Attendee party at the Seahawks stadium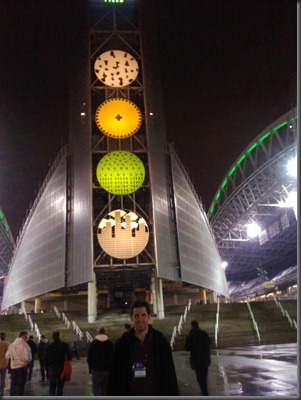 And White mountains from my plane