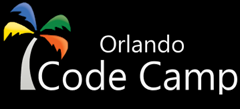 Last Saturday, we hosted the 9th annual Orlando Code Camp at Seminole State College. I know I've said this about previous events, but this was really the best Code Camp ever and it was a ton of fun putting it together. The ONETUG board stepped up big time, which allowed the days before the event to be pretty uneventful. Typically we are running around until the last minute. I'm just so happy to have an awesome team working with me to put together such a great event. Here is a picture of the entire board during our speaker party, from left to right: John Torrey, Chelsea Ziembko, Brian Mishler, myself, Santosh Hari, Slobodan Stipic.
For most people, Orlando Code Camp started at 7 am on Saturday morning, but for the board, Orlando Code Camp started back in October when we started preparing for it. I can't commend them enough for all the hard work that was put into the event and I'm happy that we were able to accomplish everything that we planned.
The speaker party at Liam Fitzpatrick's on Friday night was really well attended and we were able to provide speakers, sponsors, and volunteers a great time to network in preparation to the big event. The speaker party was sponsored by AgileThought, which is the amazing company that I work for.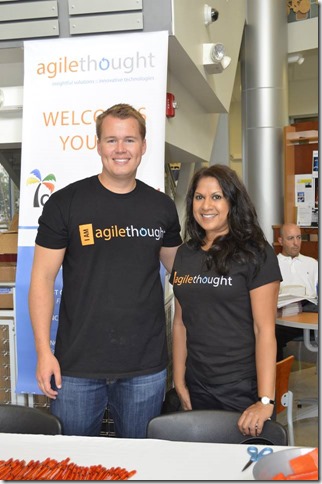 Here are Vonita and Stephen, who came up from our Tampa office

With Joe Healy, John Papa, and Shayne Boyer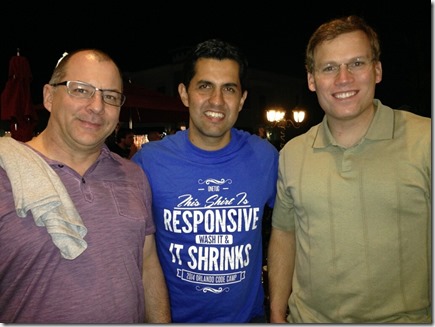 Fellow ALM MVPs Paul Hacker and Brian Minisi
The next day started at 5:00, picking up Dunkin Donuts with Slobo and then we were ready for setup at 5:45 am at Seminole State. Then it was time for the hardest part of the day, which was getting everything in place for the event. We got t-shirts and attendee bags unloaded, sponsor booths setup, placed signs on the doors, on the walls, and around campus, checked projectors in every room, setup the breakfast area, mic-check in the auditorium. Thanks to great volunteers helping us and everything went really smoothly.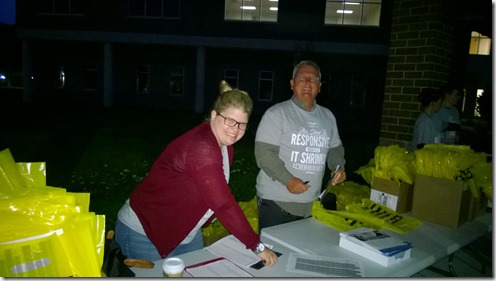 Volunteers preparing for the masses to arrive
Then very quickly, it was time for the opening and John Papa's keynote. He did a great keynote about writing readable code. It was fun/funny/informative at the same time. We are so fortunate to have such a Rockstar living in the area and always willing to help us, it is really appreciated by the whole community.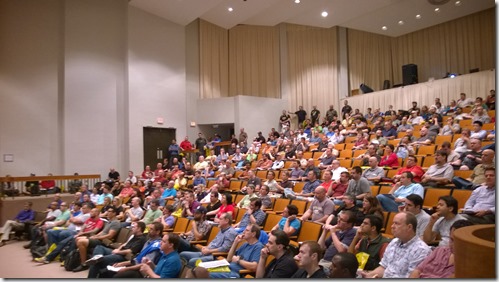 Attendees learning how to read their code faster
Then it was time for the event to get going! We had over 600 people in attendance, 69 68 speakers, and over 80 sessions, so there was plenty of material for everyone. Our speakers ranged from a few first-time speakers to seasoned speakers that you would usually see at a huge conference. We had 22 Microsoft MVPs speaking, it was just a great turnout. Our tracks included: Web, ASP.NET, ALM, SQL Server, Agile, Development Practices, Cloud, Services, JavaScript, Architecture, Soft Skills, Cross Platform, Windows Phone, Windows 8, UI, Dynamics, and we also had a hacker/maker space where people could learn about hardware and robots.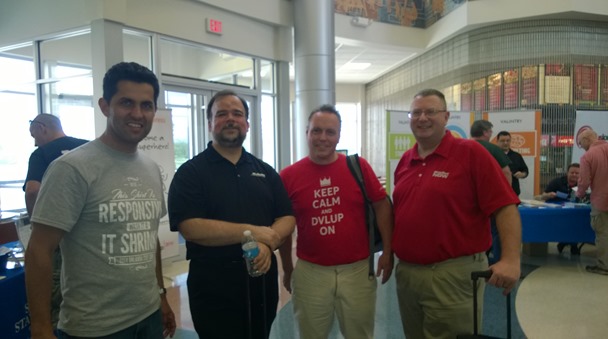 With Jim Wooley, Bill Reiss, and Joel Cochran
I gave a session on Git for Visual Studio Developers, it was fun to take a break from organizing the event and spending some time teaching people how to use the new tools in Visual Studio 2013 to succeed with Git.
Santosh gave a talk on GIS and and Chelsea and her team from SNI gave a double session on Interviewing skills.
Throughout the day, Slobo interviewed a few speakers for the ONETUG podcast. His wife Ania helped with video and took pictures throughout the entire event. Here are the pictures: https://www.facebook.com/media/set/?set=oa.10152344594037028&type=1

Slobo and Ania interviewing speakers in the Hacker room
Lunch was again provided by Lou of Orlando, he always takes great care of us. Of course, the generous contribution by DevExpress made it all possible. Attendees were also able to buy Girl Scout cookies in the sponsor area.
Finally, it was time for prizes. We gave away an Xbox 360, Xbox One, a pass to DevIntersection, year passes to Pluralsight, gift cards, a Nokia Lumia 520, a Dell Venue Pro, and more.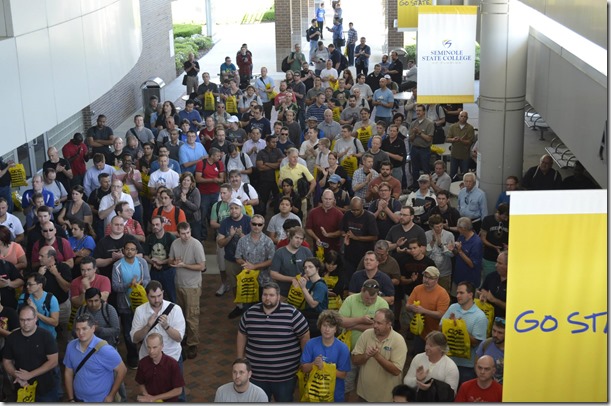 Crowd mesmerized by Slobo's speech, and hoping to win a prize
Once the prizes were over, we all headed over to Liam Fitzpatrick's for the after party. It was a great time to relax and discuss what we learned throughout the day.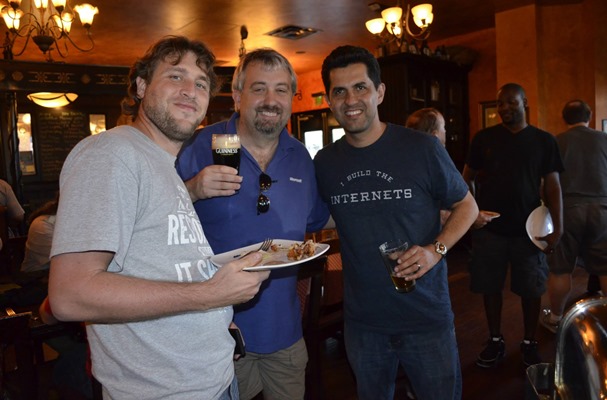 Hanging out with Jonas and Kevin – beer in hand to celebrate a great day
Again, I want to thank the awesome board at the Orlando .NET User Group for making this whole event happen and for all the passion that they show for giving back to the Central Florida software development community. We look forward to #10 next year!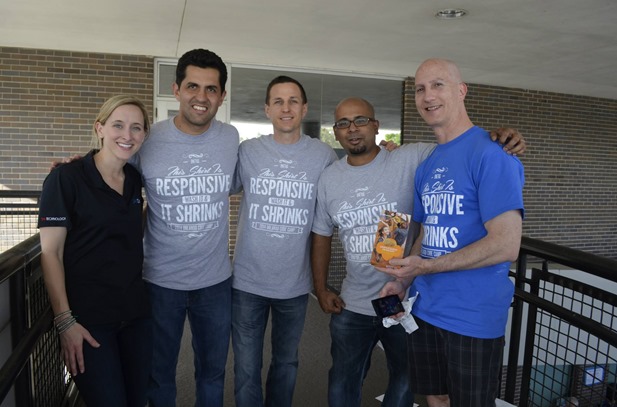 The ONETUG board at the end of the event – Brian Mishler is missing from this picture